International Legal Studies Program at American University, Washington College of Law

CIEL helped found the International Environmental Law Program at American University Washington College of Law and maintains a close advisory role with the WCL International Legal Studies Program (ILSP).
ILSP was established in 1980 in response to a growing demand for lawyers trained in international law. As one of the top international LL.M. programs in the United States, the ILSP offers a comprehensive education ininternational environmental law, human rights, comparative law, and transnational investment, trade, and development.
The program incorporates a rich array of international law courses and seminars, experiential learning, and special events offering invaluable opportunities to interact with international attorneys, diplomats, business leaders, and policy makers.
Current enrollment is approximately 160 students from over sixty countries, under the instruction of 24 full-time faculty members, including the director, Professor Daniel Bradlow, and 40 adjunct faculty members who are all recognized experts and leading practitioners in the field.
For more information visit the The Washington College of Law International Legal Studies Program Web site.
LL.M. students of the WCL International Legal Studies Program who are interested in applying for internship opportunities at CIEL should contact the WCL Assistant Director for International Career Programs, Andriana Vito, at avito@wcl.american.edu.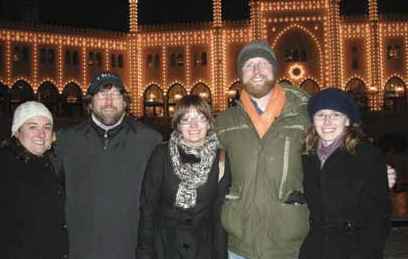 Learn More!
To receive CIEL's monthy newletter, click here.
---
---
CIEL Inaugurates The International Environmental Law Conference With American University College of Law

In 2009, CIEL inaugurated the annual conference on Developments in International Environmental Law with American Universityís Washington College of Law (WCL). The conference commemorated CIELís 20th anniversary and built on CIELís unique 20 year relationship with WCL.
The conference focused on the linkage between climate change and human rights, and it was launched as we celebrated the 60th Anniversary of the Universal Declaration on Human Rights. Attendence included a wide variety of international environmental law practitioners and representatives from NGOs, governments, intergovernmental organizations, and private practice, as well as students and professors from the United States and abroad.
---
CIEL (UNITED STATES) | 1350 CONNECTICUT AVENUE, NW SUITE #1100 | WASHINGTON, DC 20036| PHONE: (202) 785-8700 FAX: (202) 785-8701 | E-MAIL: INFO@CIEL.ORG
CIEL (SWITZERLAND) | 15 RUE DES SAVOISES, 1205 GENEVA, SWITZERLAND | PHONE:41-22-789-0500 FAX: 41-22-789-0739 | E-MAIL: GENEVA@CIEL.ORG