Human Rights & Environment Program
---
For more information about CIEL's Human Rights & Environment Program, contact Marcos Orellana.
---
News from our Human Rights and Environment Program


February 2015
UN registered Barro Blanco Hydroelectric Dam temporarily suspended over non-compliance with Environmental Impact Assessment
January 2015
Extraterritorial Obligations in the Context of Eco-destruction and Climate Change (También disponible en español)
October 2014
Rights violated and environment damaged by aerial fumigations, argues amicus
March 2014
Side-event during the Human Rights Council launches Human Rights and Environment Compendium
March 2014
Statement in Support of the Independent Expert on Human Rights and Environment
February 2014
Groups Appeal to UN to Halt Imminent Forced Evictions of Indigenous Ngöbe Community
January 2014
The Guide for Potential Amici in International Investment Arbitrations
December 2013
CIEL to speak at event jointly organized by UN Environment Program and the UN Office for the High Commissioner for Human Rights, December 12, 2013
November 2013
Book Launch: Realizing the Right to Development, at the United Nations Headquarters on December 9, 2013
August 2013
Groups Support Challenge to Dam Project in Panama for Violating Indigenous Rights
July 2013
Update from Vienna +20 Human Rights Conference
March 2013
New CIEL blog post asks #Whatwillittake for the World Bank to uphold human rights?
March 2013
Urgent Action: Call for investigation and company departure in response to recurring violence in area of Canadian-owned silver project
March 2013
Guatemala's Highest Court Denies Justice to Indigenous Peoples Affected by Mining
January 2013
EU Commission's proposed regulation on ship recycling is illegal under international and EU law
December 2012
EC Breaches International Law on Ship Recycling File, Independent Lawyers Say
November 2012
International Organizations Call for Better Protection for Human Rights Defenders in Guatemala
October 2012
Civil society fears World Bank poised to weaken its social and environmental policies and procedures
October 2012
CIEL advocates for transparency in investment arbitration at UNCITRAL negotiations
October 2012
CIEL participates in Symposium on New Directions for Human Rights and the Environment: A Symposium Inspired by Svitlana Kravchenko
September 2012
You are invited to the Human Rights Council's "Impact of Extractive Industries Operations on the Enjoyment of Human Rights"
July 2012
Guatemala's Highest Court to Hear Landmark Indigenous Challenge of Mining Law
July 2012
Statement on Appointment of John Knox as UN Independent Expert on Human Rights and Environment
June 2012
International NGOs intervene to prevent human rights violations and environmental damage in Kenya
March 2012
United Nations Human Rights Council establishes Independent Expert on human rights and the environment
March 2012
CIEL's contributes to the work of the UN Special Rapporteur on the Right to Food.
October 2011
CIEL welcomes adoption of Maastricht Principles on Extra-Territorial Obligations in regards to human rights.
October 2011
October 2011 Basel Convention COP10 makes historic progress on preventing hazardous waste from being sent to the Global South
October 2011
October 2011: Aerial spraying of herbicides in Colombia and Ecuador: environmental and human rights impacts.
July 2011
U.S. and Canadian mining companies search for gold buried near the Lempa River, threatening the water source for more than half of El Salvador's 6.2 million people, as illustrated in The Nation's, "Like Water for Gold in El Salvador".
July 2011
Controversial coal projects continue to be registered despite serious concerns.
July 2011
UN panel calls for immediate suspension of coal power projects in the CDM.
May 2011
CIEL submits report to the Basel Convention Secretariat regarding shipbreaking.
April 2011
U.N. Human Rights body recognizes the human rights and environment linkage.
March 2011
CIEL report critiques World Bank energy policy: Analysis Shows Bank Failed to Fully Consider Environmental and Health Costs in Controversial South African Project
March 2011
Amicus Brief Highlights the Environmental and Human Rights Impacts of Mining in $77 Million Investment Arbitration Case (available in Spanish).
February 2011
The right to development is necessary to effectively address climate change.
February 2011
Landmark Judment in Ecuadorian Suit Against Chevron.
October 2010
Environmental Defenders describe human rights abuses linked with the mining industry at the Inter-American Commission on Human Rights.
July 2010
CIEL publishes Climate Change in the Work of the Committee on Economic, Social and Cultural Rights.
June 2010
Guatemala Suspends Marlin Mine: Human rights and environmental organizations applaud the decision, urge President Colom's government to protect communities against retaliation.
June 2010
CIEL presented a paper on protecting human rights and promoting sustainable development in Geneva.
May 2010
International Center for Settlement of Investment Disputes (ICSID) Hearing to be Webcast for First Time.
May 2010:
CIEL and partner organizations fight to stop human rights abuses by Canadian mining companies operating in Guatemala.
May 2010
CIEL organizes a side-event on human rights, climate change and technology transfer.
February 2010
CIEL submits brief to the Inter-American Commission of Human Rights on Access to Information regarding Genetically Modified Organisms.
January 2010
CIEL discusses climate change and the right to development at the sixth session of the High-Level Task Force on the Implementation on the Right to Development.
December 2009
CIEL participates in an international conference on "International Investment Law Today: Contemporary Problems of a New Era in International Law," held in Buenos Aires, Argentina.
December 2009
Guatemalan community leaders ask Canadian government to investigate human rights violations committed by Goldcorp Inc. at Marlin Mine.
November 2009
The Center for International Environmental Law co-sponsors a briefing on the legal issues in the Ecuadorian case against Chevron.
August 2009
CIEL speaks at international workshop on extraterritorial human rights obligations.
June 2009
In a dialogue with member states, CIEL urges the Human Rights Council to take action to ensure that climate change does not harm human rights. CIEL statement available here.
May 2009
CIEL presents Issue Brief on Climate Change and Human Rights in Bonn, Germany.
May 2009
CIEL Expresses Concern about the Violation of Human Rights and Environmental Destruction Involved in the ATCA Case against Royal Dutch Shell.
March 2009
CIEL participates in two international conferences on Extractive Industries and Indigenous Peoples.
March 2009
The Friedrich Erbert Foundation and the Center for International Environmental Law cordially invite you to to a panel discussion and launch of the new publication Practical Approaches to Integrating Human Rights and Climate Change Law and Policy.
February 2009
The International Finance Corporation Improperly Interferes in Pending Investigation on Biofuels.
December 2008
CIEL addresses the Human Rights and Climate Change Interface in a Conference at WCL celebrating the 60th Anniversary of the Universal Declaration on Human Rights.
November 2008
CIEL participates in OHCHR consultation on Human Rights and Climate Change.
October 2008
CIEL provides support for Maldives submission to UN Office of the High Commissioner for Human Rights on the effects of climate change on the full enjoyment of human rights.
April 2008: U.N. Resolution adopted on Human Rights and Climate Change
January 2008
Call for Protection for Indigenous Peoples in Isolation in the Peruvian Amazon (Llamado Para La Protección De Los Pueblos Indígenas En Aislamiento En La Amazonia Peruana)
December 2007
CIEL requests precautionary measures for the protection of Cacataibo indigenous peoples in isolation in the Peruvian Amazon.
March 2007
Global warming and human rights gets hearing on the world stage.
May 2005
CIEL will host the Executive Council meeting of the International Association for the Study of Common Property (IASCP) at the CIEL Conference Room on May 19, 2005. In conjunction with this event, the International Food Policy Research Institute (IFPRI) will host a seminar on May 20 around the themes of the planned 2006 IASCP Conference, "Defending the Commons, and Decentralization and the Commons."
March 2005
Opening the Floodgates: The Implication of a Human Right to Water.
December 2004
Inuit Leader Sheila Watt-Cloutier announces Intention to File a Human Right Claim Against the U.S. for Its Dangerous Greenhouse Gas Emissions at a CIEL-sponsored event at the 10th Conference of the Parties to the UN Framework Convention on Climate Change. Background on the case is available here.
November 2004
The Inter-American Commission on Human Rights (IACHR) declared the San Mateo de Huanchor Case admissible, dismissing Peruvian objections. CIEL previously obtained from the IACHR a request for precautionary measures in behalf of the children and individuals from the community of San Mateo.
October 2004
CIEL Board of Advisors Member Wangari Maathai is awarded the Nobel Peace Prize for 2004.
October 2004
CIEL Trustee Delphine Djiraibe is awarded the Robert F. Kennedy Human Rights Award for 2004.
September 2004
CIEL creates the Louis B. Sohn Fellowship to promote the training of promising young lawyers in human rights and the environment.
December 2003
CIEL files a petition to the Inter-American Commission on Human Rights on the Ralco case, in behalf of Pehuenche families in Chile. See here for more information.
October 2003
CIEL assists International Tribunal in Brazil which Condemns Violation of Rights of Landless Workers and the Environment.
February 2003
CIEL Reports Back on its workshops on Trade & Investment and Human Rights & the Environment held at the World Social Forum in Porto Alegre, Brazil, from January 23 - 28, 2003
December 2002
CIEL organizes and co-hosts the North America/South Asia Conversation on Environmental Justice in Sariska, India.
March 2002
CIEL and CEDHA host Experts Seminar on Human Rights and Environment at American University March 19th.
November 2001
Police arrest CIEL partner, an Environmental Activist, and a Opposition Leader in Tanzania.
October 2001
International Court Rules in Favor of Indigenous Community Land Rights
September 2001
Environmental and human rights NGOs call for independent review of Forced Displacement and Alleged Massacre at Bulyanhulu, Tanzania
Learn More!
To receive CIEL's monthy newletter, click here.
---
---
More Program News Categories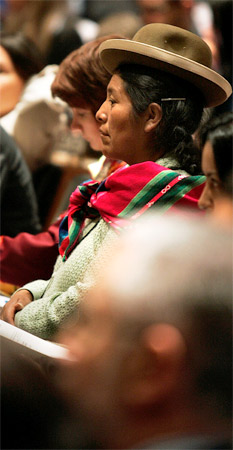 CIEL (UNITED STATES) | 1350 CONNECTICUT AVENUE, NW SUITE #1100 | WASHINGTON, DC 20036| PHONE: (202) 785-8700 FAX: (202) 785-8701 | E-MAIL: INFO@CIEL.ORG
CIEL (SWITZERLAND) | 15 RUE DES SAVOISES, 1205 GENEVA, SWITZERLAND | PHONE:41-22-789-0500 FAX: 41-22-789-0739 | E-MAIL: GENEVA@CIEL.ORG