Law & Communities Program
---
For more information about CIEL's Law and Communities Program, contact Melissa Blue Sky.
---
Law & Communities Program
Current Work
The L&C Program works in collaboration with other CIEL programs and its partners around the world to provide on-the-ground assistance to communities struggling to defend their rights. In addition to the cases outlined below, the Law & Communities program also:
Below is the docket of cases the L&C Program is involved in.
Although recent cases have been in Latin America, the Program has no geographic focus.
Marlin Gold Mine Communities In Guatemala
For the last five years, the Maya-Mam community of San Miguel Ixtahuacán in the Western highlands of Guatemala has been fighting the Marlin mine, a gold mine operated by Vancouver-based Goldcorp Inc. The mine was developed on indigenous land without the free, prior and informed consent of the community. Recent investigations have found evidence that the mine is adversely affecting the health of those who live near the mine. The L&C Program has been working with the affected communities and partner NGOs in Guatemala, the United States, and Canada since 2007.
Sugarcane workers in Nicaragua
Sugarcane workers along the Pacific coast of Nicaragua are battling an epidemic of chronic kidney disease. The cause of the disease is unknown, but many believe it is related to the chemicals applied to the cane or the working conditions in the field. After being diagnosed with the disease, the sugarcane workers are no longer able to work for the sugar companies, and, because there are few other sources of employment, have no means to support themselves or their families. Furthermore, the health and social services provided to them are vastly inadequate compared to the need.
Involuntary Resettlement In Bolivia
Ayllu Jesus de Machaca is an indigenous community located near the historic mining town of Potosi, Bolivia. In 2005, Coeur d'Alene Mines Corporation resettled several families in the community in order to construct a tailings facility for its silver mine. Because Coeur d'Alene Mines Corporation had received a political risk insurance contract from the U.S. Overseas Private Investment Corporation (OPIC) in 2004, it should have been required to apply the World Bank's Involuntary Resettlement and Indigenous Peoples Policies, but it had not done so. Instead, the company refused to fund the Indigenous Peoples Development Plan, which it had commissioned two years after it received the contract from OPIC.
Learn More!
To receive CIEL's monthy newletter, click here.
---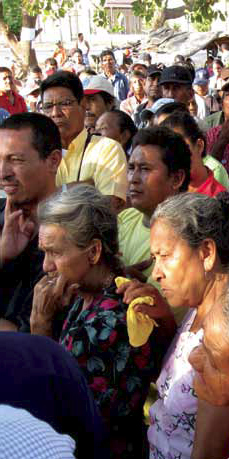 CIEL (UNITED STATES) | 1350 CONNECTICUT AVENUE, NW SUITE #1100 | WASHINGTON, DC 20036| PHONE: (202) 785-8700 FAX: (202) 785-8701 | E-MAIL: INFO@CIEL.ORG
CIEL (SWITZERLAND) | 15 RUE DES SAVOISES, 1205 GENEVA, SWITZERLAND | PHONE:41-22-789-0500 FAX: 41-22-789-0739 | E-MAIL: GENEVA@CIEL.ORG