Kristen Genovese, Senior Attorney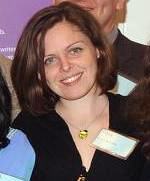 Ms. Genovese is a Senior Attorney for CIEL's International Financial Institutions Program and the Director of the organization's Law & Communities Program. Together with her colleague, Nira Amerasinghe, Ms. Genovese also coordinates CIEL's intern program.
Since 2007, Ms. Genovese has been providing legal support to sugarcane workers in Nicaragua affected by chronic kidney disease to help determine the cause of the epidemic and to obtain improved health and social services. She also works with mining-affected communities in Guatemala and Bolivia.
Prior to joining CIEL in June 2007, she was International Counsel at Defenders of Wildlife where she focused on the implementation and enforcement of the Convention on International Trade in Endangered Species of Wild Fauna and Flora (CITES). In particular, she lobbied CITES parties to address the illegal and unsustainable logging of mahogany in Peru. She also led a campaign to improve environmental protections in the U.S.-Peru Free Trade Agreement, resulting in an Annex on Forest Sector Governance and the incorporation of a requirement to implement and enforce obligations under several multilateral environmental agreements.
Ms. Genovese was a Law Fellow at the Environmental Law Institute after graduating from law school. Prior to law school, Ms. Genovese spent a year in the Ecuadorian Amazon taking photographs of trees for a project started by former CIEL Fellow Margot Bass.

Ms. Genovese received her law degree from New York University School of Law in 2004. During her time at NYU, she interned at Centro Mexicano de Derecho Ambiental (the Mexican Center for Environmental Law) and Earthjustice's International Program. Her B.S. in Environmental Policy and Behavior is from the University of Michigan School of Natural Resources and the Environment. This is her third tour at CIEL. She interned at CIEL as an undergrad and then worked for a year as a Program Associate for the Biodiversity and Trade Programs.
Ms. Genovese can be reached at kgenovese@ciel.org.
CIEL (UNITED STATES) | 1350 CONNECTICUT AVENUE, NW SUITE #1100 | WASHINGTON, DC 20036| PHONE: (202) 785-8700 FAX: (202) 785-8701 | E-MAIL: INFO@CIEL.ORG
CIEL (SWITZERLAND) | 15 RUE DES SAVOISES, 1205 GENEVA, SWITZERLAND | PHONE:41-22-789-0500 FAX: 41-22-789-0739 | E-MAIL: GENEVA@CIEL.ORG