Carroll Muffett, President and CEO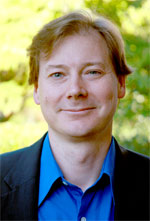 Prior to joining CIEL, Carroll served as Executive Director of the Climate Law & Policy Project and Deputy Campaigns Director at Greenpeace USA, where he was instrumental in the organization's campaigns on global warming, forests and other issues.
From 2000 to 2006, Carroll was international counsel and Senior Director for International Conservation at Defenders of Wildlife, helping win international protections for great white sharks, wild birds, and high value timber species like mahogany. Together with NRDC, he won a precedent-setting decision requiring the US Navy to comply with National Environmental Policy Act for its sonar testing operations in the US EEZ. Before joining Defenders, Carroll was an attorney with Covington & Burling, and served as a legal fellow at CIEL.
Carroll has authored numerous articles and textbook chapters on national and international environmental policy and is a recognized expert on international wildlife law. He is co-editing a forthcoming book on Governance, Natural Resources and Post-Conflict Peacebuilding (Earthscan 2011) for the Environmental Law Institute and the United Nations Environment Programme.

Carroll is a member of IUCN's Commission on Environmental Law, serves on the Board of Directors for the Species Survival Network and the Board of Editors for the International Journal of Wildlife Law and Policy.

He is a graduate of the University of Minnesota Law School and Georgetown University's School of Foreign Service. Carroll is a native of Hancock County, Kentucky.
Carroll can be reached at cmuffett@ciel.org.
CIEL (UNITED STATES) | 1350 CONNECTICUT AVENUE, NW SUITE #1100 | WASHINGTON, DC 20036| PHONE: (202) 785-8700 FAX: (202) 785-8701 | E-MAIL: INFO@CIEL.ORG
CIEL (SWITZERLAND) | 15 RUE DES SAVOISES, 1205 GENEVA, SWITZERLAND | PHONE:41-22-789-0500 FAX: 41-22-789-0739 | E-MAIL: GENEVA@CIEL.ORG