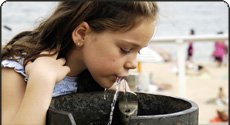 Defending the Right To A Healthy Planet
CIEL passionately works to end human rights abuses, empower people to protect their rights, develop U.S. policy on chemicals and a global mercury treaty, create an international solution to nanotechnology, promote improved performance standards in International Financial Institutions, protect forests and human rights, and expand expertise in environmental law. Your financial support helps make it possible for CIEL to defend the right to a healthy planet.



Volunteer
Are you interested in...
Volunteering to help nature, people, human rights, and the environment?
Performing volunteer work with others who share your love of nature and passion for human rights and the envrionment?
Contributing your time and skills to an organization that you believe in?
Broadening your resume and/or life experiences?
If you answered yes to any of these questions, then the Center for International Envrionmental Law has some great volunteer opportunities for you.
We are looking for volunteers in these areas:
Seasoned professionals In International Environmental Law
International Envrionmental Law student interns - See our Internship Program
Web Designers/ Web development professionals with Dreamweaver experience
Web Professionals with experience in non-profit Web sites and evaluating content management systems
Experienced Graphic Designers
Social Media Communications Professionals
Event planners and Caterers
Personal Fundraisers
Volunteers to assist with Charitable Giving efforts
If you are interested in volunteering, send us an e-mail or resume detailing your experience and let us khow how you can assist CIEL at info@ciel.org
Thank you for your interest in volunteering with CIEL!
Learn More!
To receive CIEL's monthy newletter, click here.
---
Reasons To Support CIEL
Your support is critically needed. Please see:
---
CIEL relies on the spirit of charitable giving from supporters and friends like you. Together we can make a critical difference.
Please give generously.

$5,000+ Presidents Circle
$2,500 - $4,999 Advocates Circle
$1,000 - $2,499 Leaders Circle
$500 - $999 Donors Circle
$100 - $499 Contributors Circle
Up to $99 Supporters Circle

---