---
CIEL is a 501(c)(3) tax-exempt organization. For more information about making a donation to CIEL, contact Melissa Hippler.
---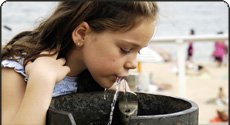 Defending the Right To A Healthy Planet
CIEL passionately works to end human rights abuses, empower people to protect their rights, develop U.S. policy on chemicals and a global mercury treaty, create an international solution to nanotechnology, promote improved performance standards in International Financial Institutions, protect forests and human rights, and expand expertise in environmental law. Your financial support helps make it possible for CIEL to defend the right to a healthy planet.



Ways You Can Support CIEL
CIEL's mission is to protect the environment and promote human rights, justice, and sustainable development. For every human being. For every plant and animal. For all of us who make up the global ecosystem.
You can support CIEL's work in several ways:
Support CIEL by staying informed about CIEL's ongoing work through our e-mail updates, signing up for our Blog news feeds, joining CIEL communities on Facebook, Twitter, and ICQ. Within your social network, share our story and why you you support us.

For donors in the U.S., support CIEL by making a charitable contribution through our secure online donation form using a major credit card. Make a one time or recurring donation. Donate in honor or in memory of someone special, celebrate a special occasion, such as a birthday, or fund raise for us using your social network.

For donors outside the U.S., please use this page for contributions."

Donate By Check

Support CIEL by making a charitable contribution using a check. Donations made by check should be made payable to CIEL at 1350 Connecticut Avenue, NW, Suite 1100, Washington, D.C. 20036-1739.

Federal employees can support CIEL by giving through the Combined Federal Campaign (CFC), the annual workplace charity drive that the Federal government runs every fall. CIEL is #10417.

Support CIEL through bequests and estate planning. There are many types of planned gifts that you may want to consider in your financial and estate planning that may give you tax benefits while providing CIEL with essential funding for CIEL programs.




Wangari Maathai composed this forward-looking quote for a poster displayed at CIEL's 20th Anniversary Gala in March 2010.



Learn More!
To receive CIEL's monthy newletter, click here.
---
Reasons To Support CIEL
Your support is critically needed. Please see:
---
CIEL relies on the spirit of charitable giving from supporters and friends like you. Together we can make a critical difference.
Please give generously.

$5,000+ Presidents Circle
$2,500 - $4,999 Advocates Circle
$1,000 - $2,499 Leaders Circle
$500 - $999 Donors Circle
$100 - $499 Contributors Circle
Up to $99 Supporters Circle

---