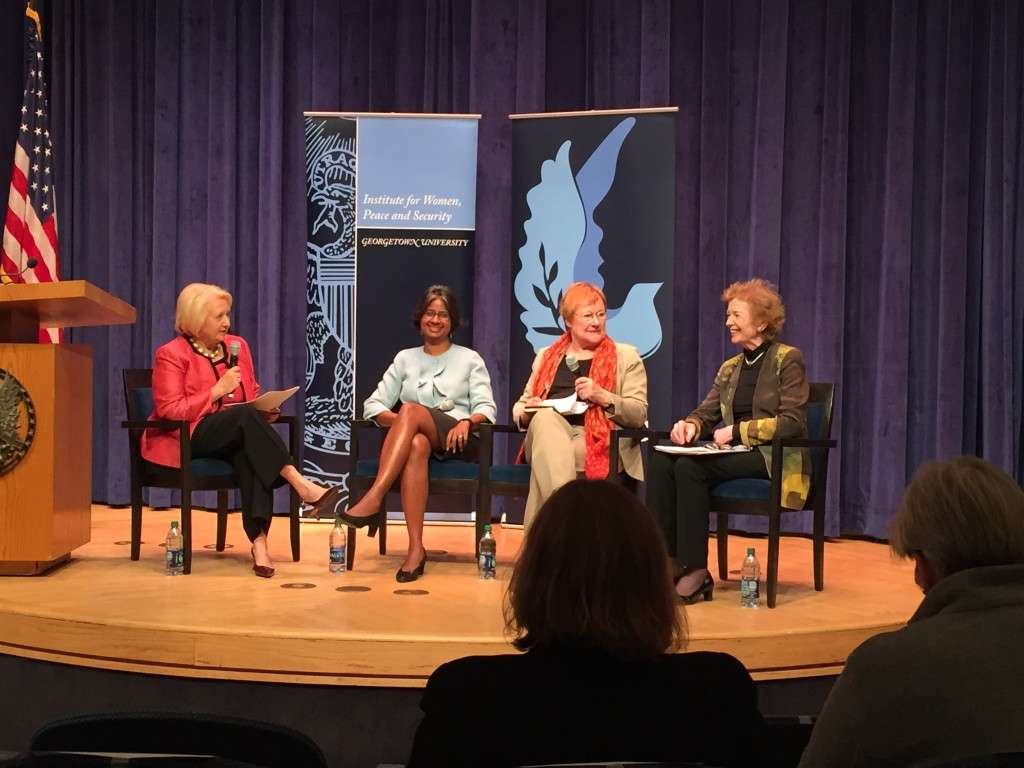 By Stacey Morales and Geffen Kozikaro, Early Warning System Interns
As world leaders prepare for the 2015 UN Climate Conference in Paris in late November, the international community must recognize that women—who are the majority of the world's poor—are among those most vulnerable to the impacts of climate change. At the same time, we must also acknowledge that women are powerful agents of change and critical to climate solutions. This theme was the topic of a panel hosted by the Georgetown Institute for Women, Peace, and Security (GIWPS) on October 16, 2015. Building off the release of the "Women and Climate Change: Impact and Agency in Human Rights, Security, and Economic Development" report by the Institute, the panel was moderated by GIWPS Executive Director Melanne Verveer, featuring CEO of the Global Alliance for Clean Cookstoves Radha Muthiah, former President of Finland Tarja Halonen, and UN Special Envoy for Climate Change Mary Robinson.
Keynote speaker Mary Robinson opened by highlighting that women are yet to be explicitly included in the climate change dialogue, despite the fact that they constitute half of the world's population and their livelihoods are more dependent on resources that are negatively affected by climate change. For example, deforestation causes women to travel farther to collect firewood for their families. Robinson called for more gender responsive policies on climate change that acknowledge these imbalanced impacts. Robinson concluded by stating that "too often women are categorized as vulnerable, with little acknowledgment that they can and already do offer solutions."
Radha Muthiah, CEO of the Global Alliance for Clean Cookstoves, mentioned that women view the issue of climate change holistically and are drivers of change. Her work with the Alliance provided evidence of this idea in action. The Alliance seeks to remedy faulty cookstove designs, which make the simple task of cooking dangerous to women's (and their family's) health. Remedying these faulty designs is not easy. You can't simply provide newer and more efficient stoves. The new design may not be intuitive to use or it may not prioritize their needs. Thus, the Alliance puts women at the forefront of creating, distributing, and servicing models that fit their needs and lifestyles. Through this experience, more women are gaining leadership roles in their communities.
While the panelists provided many concrete suggestions as to how women can make an impact in their communities, they were also eager to look at the bigger picture. Former President Halonen frequently referenced the UN Sustainable Development Goals, which enshrine the idea that women must be included in climate decision-making and implementation of solutions. With regards to the upcoming COP21 (21st Conference of the Parties of the United Nations Framework Convention on Climate Change) in Paris, the speakers unanimously agreed that there needs to be a "Paris Miracle," similar to what they called the 2012 "Doha Miracle," which called for greater gender balance in climate change negotiations.
To conclude the discussion, World Bank Special Envoy for Climate Change Rachel Kyte provided "marching orders." Her message was clear: women must be in the room. Without female agricultural researchers, she explained, drought resistant seeds that can handle changing rainfall patterns will not be developed; likewise, without women in the energy policy and trade negotiation rooms, decisions benefitting developing economies will not be made. She urged the women in the room to engage in every sector, to be physically in every room to ensure investments in long-term, sustainable solutions. "Not one of you, but three of you," Kyte joked, referring to the unfortunate trend of tokenizing female participation on teams where female voices get drowned out. The laughter in response to Kyte's joke masked a harsh reality: until norms shift to respect female voices automatically, women have to support each other in order to be heard. During her speech, Kyte emphasized that we have a lot of work to do. "Yes," she said, looking at the panel audience. "I'm talking to all of you."
Originally posted November 18, 2015