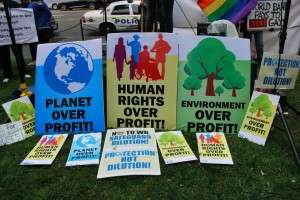 The Citizen's Guide to the Accountability Mechanism of the Overseas Private Investment Corporation (OPIC) is designed to help give local communities affected by OPIC‐supported projects a voice in the development process. The OPIC Board of Directors created the Accountability Mechanism in 2004 as part of a broader Accountability and Advisory Mechanism (AAM). The Accountability Mechanism receives from local communities complaints relating to environmental, social, human rights, and labor impacts of OPIC‐supported projects. This Guide simplifies the complaint process by gathering in one place all information needed to file a complaint relating to these impacts.
First, the Guide provides a brief overview of what OPIC does and how the Accountability Mechanism works. Next, the Guide lays out, step‐by‐step, all of the necessary parts of a complaint to the Mechanism. The Guide explains the two types of complaints – Compliance Review complaints and Problem‐Solving complaints – and provides practical tips for putting together a compelling and effective complaint. Additionally, the Guide gives you an idea of outcomes that may be expected from a complaint and how to best manage the complaint process.
The bulk of the Guide breaks down the relevant environmental, human rights, labor, and information disclosure laws, policies, and procedures OPIC must comply with when supporting development projects. The Chart of Standards provides this information in an easy‐to‐use topical fashion that makes it simple to match the facts of your case with the relevant rules the OPIC project may have broken. Lastly, the Appendix supplies you with useful tools, such as checklists and complaint outlines, to help you successfully use the Accountability Mechanism.