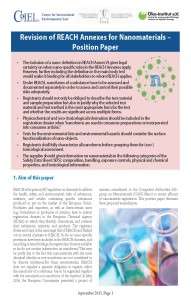 REACH is the primary EU regulation on chemicals to address the health, safety, and environmental risks of substances produced or put on the market in the European Union. REACH and several of its Annexes flesh out the duties that producers and importers, as well as down-stream users, have to submit registration dossiers to the European Chemical Agency (ECHA) in which they identify, characterize, and evaluate their substances, mixtures, and products. So far no nano-specific provisions have been included in the REACH Annexes, and according to latest findings, the registration dossiers available so far do not contain information on nanoforms. REACH also does not stipulate a separate obligation to register the nano form of a substance from the associated non-nanoforms of the material. In May 2014, the European Commission presented a project of annexes amendment to the Competent Authorities Sub-group on Nanomaterials (CASG Nano) to ensure efficacy of nanomaterial registration. This position paper discusses these proposed amendments.
Examen des annexes REACH relatives aux nanomatériaux – Exposé de position
REACH est le premier règlement de l'UE sur les produits chimiques à aborder les risques pour la santé, la sécurité ainsi que les risques environnementaux associés aux substances, mélanges et produits contenant des substances spécifiques produites ou mises sur le marché dans l'Union européenne. Les producteurs et importateurs, ainsi que les utilisateurs en aval (par exemple, les formulateurs ou les fabricants de produits), doivent soumettre des dossiers d'enregistrement à l'Agence européenne des produits chimiques (ECHA), dans lesquels ils identifient, caractérisent et évaluent leurs substances, mélanges et produits. Les obligations du déclarant sont disponibles dans le texte légal principal du règlement REACH, et étoffé dans plusieurs annexes REACH. Jusqu'à présent, aucune des dispositions spécifiques aux nanomatériaux n'ont été intégrées dans les annexes REACH, et selon les dernières conclusions, les dossiers d'enregistrement disponibles à ce jour ne contiennent pour l'instant aucune information sur les nanoformes.1 Cela peut être en partie dû au fait que les nanomatériaux ayant la même identité chimique faisant d'eux des non-nanoformes ne sont pas considérés comme des substances distinctes. Pour ces nanomatériaux, le règlement REACH ne prévoit pas d'obligation distincte d'enregistrement, au lieu de cela la nanoforme2 d'une substance doit être enregistrée en même temps que les non-nanoformes associées du matériau. En mai 2014, la Commission européenne a présenté un projet de modification des annexes au sous-groupe Competent Authorities Sub-group on Nanomaterials (CASG Nano) afin de veiller à l'efficacité de l'enregistrement des nanomatériaux. Cet exposé de position examine ces modifications proposées.