On April 9, 2014, over 18,000 people from all over the world tuned into the live stream of the Tom Lantos Human Rights Commission hearing on "World Bank Lending and Human Rights." The hearing focused on how the influential World Bank can improve its development programs while supporting effective human rights protections and maintaining environmental safeguards. The hearing was timely, given the current update of the World Bank's environmental and social safeguard policies and the ongoing reform ushered in by World Bank President Jim Yong Kim. Advocates from communities affected by World Bank projects and supporting organizations provided testimony representing thousands of individuals affected by the detrimental consequences of economic development across the world. The witnesses included:
Barney Frank, Former Member of United States Congress & Chair of House Financial Services Committee
Arvind Ganesan, Director for Business and Human Rights, Human Rights Watch
Nadejda Atayeva, President, Association for Human Rights in Central Asia (Uzbekistan)
Delphine Djiraïbé, Human Rights Attorney, Chadian Association for the Promotion and Defense of Human Rights (Chad)
Felix Valentin, Coordinator, Land Defense Program, Fraternal Black Organization (Honduras)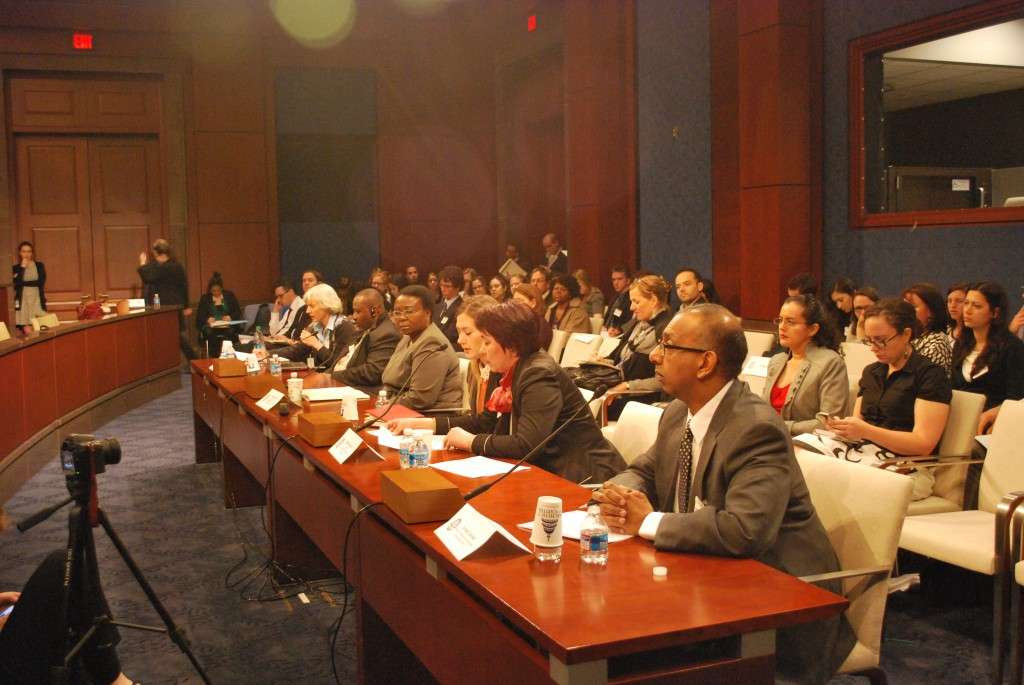 Congressman and Co-Chair of the Tom Lantos Human Rights Commission, James P. McGovern (D-MA), opened the floor for the five witnesses. Representatives David Cicilline (D-RI) and Jan Schakowsky (D-IL) who are members of the TLHRC were also in attendance. McGovern began by noting that the World Bank is a vital source of economic support, with the power to change lives for the better, or worse. The members of the Commission voiced their concern for the human rights violations linked to World Bank investments and asked for recommendations as to how the United States might use its role as a major shareholder at the World Bank to influence a move to better the Bank's policy and practices.
Representative Cicilline stressed the notion that true development cannot be achieved at the expense of human rights and safeguards. Instead, he noted, the safeguards of the Bank need to be improved and formulated to protect local individuals from the harmful effects of the World Bank-funded projects while ensuring accountability for those responsible for causing harms. McGovern later added that the inspection panel should be seen as a "force multiplier" for achieving World Bank objectives and there should be no hesitation to give it more oversight capabilities.
Barney Frank began the first panel by expressing concern for marginalized groups, especially the LGBT community in the context of development finance. When asked for comment on the World Bank's pause on a loan to Uganda in response to its aggressive anti-gay law, Frank supported the move as a necessary precedent for human rights protection in the World Bank. However, he stressed that "it's important to have a framework in place, so any country contemplating brutal actions in the future will be on notice … I think it's reasonable to say, 'If we're going to punish you, we should let you know in advance what the rules are.'"
Frank elaborated that human rights are more than just a "Western concept" and stressed that human rights are compatible across cultures. He further asserted that he has always been a great friend of the Bank since his time in Congress, and it's time the Bank recognize that, "protecting human rights is the best thing the World Bank can do – for itself and for people." Frank added that US support for human rights abroad improves national security as well.
Human Rights Watch's Arvind Ganesan opened the second panel, where he testified that the World Bank safeguard policies do not adequately protect human rights and that the United States has an "unclear" position on human rights. He urged Congress to push the administration to advocate for the World Bank to ensure that it's safeguard policies:
Require respect for human rights;
Prohibit discrimination of all protected categories under international law;
Undertake human rights due diligence;
Ensure the existing safeguards, such as those on resettlement and indigenous people, meet international human rights standards; and
Apply to all activities of the World, Bank including all lending mechanisms and through technical advice, and increase monitoring of and supervision.
He voiced concern that World Bank policies do not have clear criteria for how staff should deal with human rights. He urged the United States to take advantage of the opportunity to lead on the issue.
Nadejda Atayeva, Association for Human Rights in Central Asia
Nadejda Atayeva testified that, in her home country of Uzbekistan, millions of citizens are forced to pick cotton in inhumane conditions, which cause serious detrimental health impacts while also ruining livelihoods. Although the World Bank-funded loans aimed to reform the agricultural sector within Uzbekistan's economy, in practice these loans have fueled the government's willingness to economize on the cost of labor to increase profits. Atayeva asked that the World Bank stop funding projects where forced and child labor exist, and she highlighted the unreliable assessments that were undertaken by consultants hired by the Uzbekistan government which prioritized the government's wants over the people's needs. Atayeva reiterated her hopes that the World Bank will require independent assessment and monitoring of projects, as well as enforce policies preventing labor abuses.

Internationally renowned human rights lawyer Delphine Djiraïbé testified to the human rights and environmental impacts of the Chad-Cameroon Petroleum Development and Pipeline Project that "was meant to be transformational. Yet even an internal Bank evaluation found the project had not contributed to poverty reduction but rather enriched the government of Chad – meaning more and more corruption and human rights violations." She argued that the World Bank should have listened to the voices of the local communities as well as civil society members and taken human rights into consideration. She stated that going forward human rights must be a part of the Bank's policy, as well as an effective justice system. Djiraïbé urged the US Congress to put "pressure on the World Bank Group to learn from the fiasco of this project and not keep repeating the same mistakes that lead to serious human rights violations and environmental degradation."
Lastly, Felix Valentin spoke about another World Bank project in Honduras where a palm oil plantation project failed to consider and respect the rights of indigenous people, including their right to land. Valentin reported that new laws in Honduras supported by the World Bank threaten his community and have resulted in violent land takeovers.

As a whole, witnesses stressed the importance of human rights in the World Bank's development goals, and emphasized that human rights must be a priority when considering the impacts of World Bank investments before Bank support is committed to a given development project. Ganesan concluded his discussion stating that some World Bank member countries support the explicit inclusion of human rights in World Bank safeguards while others do not, however the World Bank Group management should be encouraged to champion human rights. He also strongly advocated for an effective, independent inspection panel to provide oversight and the opportunity for redress in the case of negative impacts. McGovern agreed and stated that unfortunately no one at the bank is encouraged, rewarded or promoted for stopping a project because of human rights concerns, therefore the US needs to push the World Bank in the right direction and be a leader on this issue.
***
Get caught up on the action and stay tuned for more coverage of the World Bank Spring Meetings!
Tweet