The United Nations Human Rights Council (HRC) has decided to begin drafting an international treaty to hold transnational corporations accountable for human rights abuses.
On June 26, 2014, the HRC voted in favor of a resolution to establish an intergovernmental working group that would create an instrument for regulating transnational corporations with regard to human rights. Twenty countries voted in favor of the treaty, while fourteen voted against and thirteen members abstained. Negotiations will begin in 2015. More than 80 nations and 600+ organizations (including CIEL) support the resolution.
The United States and members of the European Union were the strongest opponents to the resolution and lobbied other countries to join them, arguing that other instruments already exist, such as the UN Guiding Principles on Business and Human Rights, which are to be enforced at the national level. EU delegates reportedly argued that work on a treaty discourages companies from taking voluntary action, while the US delegate stated that "this legally binding instrument will not be binding for those who vote against it."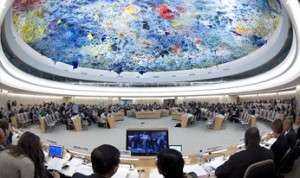 The potential of this new binding treaty is enormous. Human rights and environmental violations abound in transnational corporate operations worldwide. Corporate violence, intimidation, and escalated social conflict are the norm. A CIEL report submitted to the Inter-American Commission on Human Rights in 2010 documented the pattern of attacks and intimidation against environmental defenders in the mining sector in Mesoamerica. A new report from Friends of the Earth International details an alarming trend of attacks on environmental defenders over the last two years. Global Witness' report Deadly Environment documents the dramatic rise in killings of environmental and land defenders, and Article 19 published A Dangerous Shade of Green in June on the threats to environmental and human rights defenders in Europe. Meanwhile, legal action against these transnational corporate transgressors remains a chimera – illusive and unattainable – at least for now.
Views on the new resolution and working group vary. Previous chair of the Institute for Human Rights and Business International Advisory Board John Ruggie responded to the resolution and pointed out that a single treaty will not be able to resolve so many areas of national and international law.
The International Commission of Jurists (ICJ), a non-governmental organizations of lawyers, judges, and other legal professionals, published a report in June which concluded that while a binding instrument will be complex, there is enough stakeholder support to move this forward.
CIEL has spoken at the HRC on transnational corporations and human rights and has also co-hosted side-events. CIEL has pointed out both the imbalances apparent in an international legal regime that provides investors with recourse to binding investment arbitration while leaving the victims of corporate abuse without recourse to effective remedy. CIEL has also shown the gap existing with respect to transnational corporations where the home State of the corporation is unwilling to uphold its duty to protect extra-territorially. This gap is aggravated where the host State is unable or unwilling to control the transnational corporation, or complicit in the human rights abuses. A treaty on transnational corporations focusing on extra-territorial obligations and remedies is essential to close this gap.
Read the full HRC resolution here.
Originally posted on August 12, 2014.