This week the World Bank Spring Meetings kick off in Washington, DC, and we delivered your important messages.
Yesterday, we delivered your message – amplified by more than 10,000 supporters from 90 countries – to the Executive Directors of World Bank: It's time for World Bank President Jim Yong Kim to integrate human rights into the Bank's safeguard policies! Real development requires strong safeguards that ensure people are heard and their rights are respected!
Over three decades ago, the World Bank took the first step among international financial institutions to create environmental and social policies to ensure that its investments do not unduly harm the environment or communities. In October 2012, the World Bank began the first comprehensive internal review of those policies, which will profoundly affect the standards for development finance globally.
The first draft of the Bank's new policy in July 2014 was met with great opposition from civil society groups worldwide. We are concerned that it will scale back hard-fought protections for communities and the environment and undermine rights guaranteed under international human rights law. For instance, the draft allows countries to "opt out" of required protections for indigenous peoples, such as requirements to obtain indigenous peoples' free, prior, and informed consent before implementing projects that would affect them.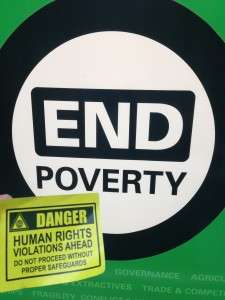 This is a defining moment for the Bank. Will it stake its claim as the leading public development bank by explicitly committing to respect human rights in its lending? Or will it shrink away from its responsibilities, lowering the bar to compete for business with other lenders and setting off a race to the bottom?
With your support, we are urging President Kim and the Board to lead the Bank into a new era in which human rights are treated not as an irrelevant political factor, but embraced as a central part of poverty reduction, sustainable development, and sound risk management.
As the scope and sources of lending expand globally, it becomes even more important that the World Bank, long seen as the standard-bearer, must establish and uphold adequate standards to protect human rights. Our 10,000 voices from around the world demand nothing less.
Originally posted on April 15, 2015.